Visit us on Facebook: 
https://www.facebook.com/rhythmia
816-590-9406; 
Previous events
Free and Open to the Public Outside, in front of the US Bank Building
Leavenworth Public Library - Jahn Room, 417 Spruce St., Leavenworth, KS
FREE
Lawrence Kansas Library - Lawn Plaza, 707 Vermont St., Lawrence, KS
If you would like a downloadable version in pdf format of the insert that came with the CD, containing historical information on the tunes, please click on the following link:
The Rhythmia is Fine and Dandy
Acoustic old-time string band featuring ragtime, fiddle tunes & Caribbean music
String bands were important in the early development of ragtime and in other styles of music. In their book Out of Sight: The Rise of  African American Popular Music, 1889-1895, Doug Seroff and Lynn Abbott refer to newspaper articles from 1894-1895 in the Leavenworth Herald of Leavenworth Kansas, and the American Citizen of Kansas City, that refer to a rag as "a kind of country hoe down. . .at which black string bands usually played." Ragtime pioneer Ben Harney stated that he learned ragtime by listening to a black string band performing it at rural dances in Kentucky.
Ethnic music was also an important part of the early string band repertoire. Howard Armstrong, an African-American fiddler/mandolinist who recorded with Martin, Bogan & Armstrong, and the Tennessee Chocolate Drops, said that he survived the depression of the 1930s by playing pop standards, blues, jazz, ragtime, and different types of ethnic music, which he was able to sing in those languages.
1. Slivers Two Step 1909 (Maude Gilmore, 1890 - 1971) Gilmore worked as a song plugger in the music department of Woolworths in Kansas City and wrote two rags that were published; Peach Blossoms (1910) and Slivers (1909) both published by Charles L. Johnson. "Slivers" was Gilmore's nickname, but Johnson had to reissue the piece under the name Splinters because "Slivers" was also the nickname of a local baseball player who threatened to sue. Maude Gilmore was the aunt of Kansas City radio personality Walt Bodine. The second theme starts in the relative minor key, which is unique. She then cleverly uses the VI chord in that key as a pivot back to the major key, where it is the subdominant (IV) chord.
2. Bill Driver's Cakewalk recorded in 1950 (attributed to Bill Driver, 1881 - 1985)
Robert Perry (R.P.) Christeson traveled throughout the State of Missouri between 1948 and 1961 collecting old-time fiddle tunes indigenous to the state and recording them on an old wire recorder. He transcribed over 500 of these tunes and published them in two volumes of The Old-Time Fiddler's Repertory (1973). One of the fiddlers he recorded was William A. (Bill) Driver, a black fiddler from Iberia, Missouri, who played this piece.  Christeson had known Driver since 1928 and said that Bill could provide steady, peppy fiddle music in abundance. Driver ended up in Jefferson City, Missouri, where he died in 1985 at the age of 104. This tune doesn't have a title; Driver called it a cakewalk and in Christeson's book, it is simply titled "Piece."
3. Shiftless Johnson Characteristic March & Two-Step 1901 (Leon A. Wheeler, 1871 - 1961)
The piano score for this cakewalk was published in 1901 by V. M. Jones & Co. in Springfield, MA. We are playing from an arrangement for two mandolins and guitar published by J. H. Williams in Hartford, CT in 1902. J. W. Jenkins Sons of Kansas City is shown on the cover next to the publisher. I have not been able to establish a connection between Williams and Jenkins, but in the card catalog listing for the music at the UMKC Miller Nichols Library, Jenkins is mentioned as "selling agents." Wheeler was born in Manchester, NH, but lived in Hartford for 80 years. He opened his own business, the Hartford Piano Company, in 1912, which was still in business when he died 50 years later. Wheeler played the violin in theatre orchestras, such as the Beeman & Hatch orchestra, but decided not to make a living "just fiddling his time away." Strangely, none of the information found mentions anything about him writing or publishing any music. Shiftless Johnson is the only known piece he published. John H. Williams, publisher of the string arrangement and probably the arranger, was a music teacher in Hartford who played in mandolin-guitar duets.
4. Olga Meringue Par (Arthur Duroseau, dates unknown)
The meringue is a folk dance from Haiti and has been called the national Haitian form of musical expression. Like the cakewalk in the United States, the meringue was a dance competition. The prize was a meringue, which is a French pastry. One of the leading exponents of the Haitian meringue was composer and violinist Arthur Duroseau, who came from a family of popular Haitian musicians. Duroseau and his brothers recorded an album, Haitian Piano, for the Folkways label in 1951 (Folkways 6837).
5. Pleasant Moments Ragtime Waltz 1909 (Scott Joplin, 1868 - 1917)
In 1916, Scott Joplin recorded a series of hand-played piano rolls for the Connorized Company. All of the rolls were found, except one, Pleasant Moments Ragtime Waltz. This roll remained missing until it was discovered by a collector in New Zealand in 2006. Waltzes were popular during the ragtime era and most ragtime composers also wrote syncopated waltzes, such as Scott Joplin's Bethena (1905) and Harry P. Guy's Echoes from the Snowball Club (1899).
6. Fine And Dandy 1908 (Charles L. Johnson, 1876 - 1950) arranged by Louis Tocaben
Johnson, Kansas City's most prolific and successful ragtime composer, who wrote the million-selling Dill Pickles Rag (1906), was also a music publisher who arranged music for other local composers, such as John Rogers. Rogers was the stepfather of movie star Ginger Rogers, from Independence, Missouri, a suburb of Kansas City. She took his surname, although he never legally adopted her. Ginger began her career by winning a Charleston dance contest in Ft. Worth, singing Rogers' Cowboy's Lament. I met with Rogers' son, Bruce, who gave me copies of nine letters written by Charlie Johnson to his father between February 20, 1937 and June 10, 1938, with an additional letter from February 4, 1947. The letters indicate that Johnson knew Ginger Rogers and her mother, Lela, quite well. In one of the letters, Johnson mentions that he had heard from Lela (she and Rogers were divorced by then) and had written to Ginger recently.
Johnson collaborated with Rogers on one song, Mad At Me, which was not published. Johnson arranged one of Rogers' songs, Only A Thing Of The Past, which was published by B.F. Woods Music Co. in Boston (date unknown). In his letters, Johnson mentions promoting it to radio stations and to Forster Publishing. He also says he'd like to hear the old Baltimore Hotel Orchestra (in Kansas City) "knock it off." Rogers wrote only one rag, (unpublished), which he gave two titles, Quenemo Rag and Cotton Leaf Rag. Quenemo was the name of the Kansas town where he was from. Several of Rogers' songs were published by such publishers as Henry Waterson (of Waterson, Berlin & Snyder), Majestic Music Publishing, Fort Worth, and B.F. Woods Music Co. of Boston. Early in his career, Johnson played mandolin in a local string band called the Walton Mandolin Club. This could explain the folksy sound to many of his rags. The Walton Mandolin Club performed at Kansas City's Fairmount Park in 1895.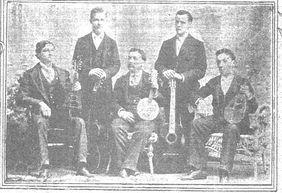 The Walton Mandolin Club, Chas. L. Johnson far right
7. New Money (traditional) 
New Money was recorded in 1928 by Doc Roberts (1897 - 1978), one of the finest old-time fiddlers of country music's golden era. Roberts learned this tune from a black fiddler named Owen Walker, however, another source states that he learned it from Elzie Stone, another popular white fiddler from Kentucky. Roberts, known as "Fiddlin' Doc" was from Madison County, Kentucky, although his style shows a considerable "Texas" influence. Roberts recorded over 200 sides of old-time vocal and instrumental music over a ten-year period.
8. Frog Legs Rag 1906 (James Scott, 1886 - 1938)
Considered one of the best ragtime composers second only to Scott Joplin, James Scott was born in Neosho, Missouri, grew up in Carthage, Missouri, and lived the last eighteen years of his life in Kansas City, Kansas (1920 – 1938). An article in Kansas City's Rising Son newspaper from 1904 says that James Scott was in Kansas City and was so pleased with the city that he thinks he will make it his headquarters. Frog Legs was the second biggest seller for publisher John Stark, after Joplin's Maple Leaf Rag. The second theme is influenced by Maple Leaf Rag's second theme, but is still completely original. One unique feature is the key change at the trio to the dominant, rather than the subdominant as in most rags. The last theme uses the call and response pattern, a James Scott trademark. Overall, Frog Legs Rag is representative of James Scott's style; rhythmically exciting and fully scored.
9. Revelry Rag 1993 (Kevin Sanders, 1954 - ; Susan Spracklen Cordell, 1953 - )
After hearing ragtime pianist Susan Cordell, from Joplin, Missouri, play one of her original rags, I mentioned to her that I had trouble writing good rags, but that I had written some songs that turned out OK. At her request I sent a tape of some of my best songs to her. She took these songs and arranged them into a rag. I liked it and we decided to name it after the upcoming Kansas City Ragtime Revelry concert in Kansas City.  I was involved in organizing the concert and Susan was on the program. We dedicated it to Helen and Smiley Wallace, good friends of ours, who were big ragtime fans and helped organize the revelry.
10. Blanche Toucoutou/Can-Can (Joseph Beaumont/traditional Creole piece)
A medley of two Creole pieces from Louisiana. Blanche Toucoutou was recorded by the great Jazz trombonist Kid Ory, spelled as Touquatoux, and an unreleased recording by Benoit LeBlanc, a singer from Montreal, Canada, who specializes in Creole songs. The song was written in the nineteenth century by Joseph Beaumont, based on a novel, written by Edward Larocque Tinker. The novel tells the story of Toucoutou, a Creole woman who accuses a white woman of insulting her with a racial slur.  Toucoutou sued the woman, thinking that if she won it would be legal proof that she was white and could therefore "pass" as white. Toucoutou lost the court case, the judge deciding that she was indeed part African. We play this using the clave rhythm, also known as the Bo Diddley rhythm, since he used it in practically every one of his songs. The clave is a distinct 3/2 over two bar rhythmic pattern developed in Cuba but derived from African rhythms. It shares the same name as the percussion instrument claves, which almost always plays this rhythm in Latin American music. The claves are a pair of wooden sticks struck together, with the palm of the hand cupped to resonate the sound.
Can-Can, pronounced Caw Caw, was recorded by Kid Ory as Creole Song and by Jelly Roll Morton on his 1938 Library of Congress recordings. Morton tells how the song was extremely popular at local dances in New Orleans around 1905. He says that the lyrics had a vulgar meaning and the dancers would get "really hot" whenever the band would start playing it.
11. Three-in-One Two Step 1929 (Daniel H. Williams, 1900 - 1974)
We learned this country rag from a 1929 recording by a Texas string band, the East Texas Serenaders, written by their fiddler, Huggins Williams. The band consisted of fiddle, two guitars, banjo, and a three-stringed cello, played with a bow. Ragtime had a strong influence on early country music and the East Texas Serenaders recorded more rags, or raggy-sounding tunes than any other string band of the time. The second theme of this piece resembles the second theme of Charles L. Johnson's Dill Pickles Rag (1906). You can also hear parts of Lucien Denni's (another Kansas City composer) Oceana Roll (1911) in the fourth theme, and Irving Berlin's The Grizzly Bear Rag (1910) in the third theme. Williams was known for "appropriating" parts of other tunes for his pieces. Country rags usually have only two themes; however, this piece has five, which is highly unusual for a country string band.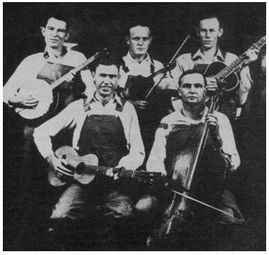 The East Texas Serenaders

12. Rainbow - An Indian Intermezzo 1908 (Percy Wenrich, 1887 - 1952) arranged by Henry Haug
 During the ragtime era, other types of music, such as marches, waltzes, and Indian intermezzos were also popular. These intermezzos shared the same structure as most rags, but were not syncopated like rags. Other than the title and the picture on the cover, they were usually nothing like authentic Native-American music. After achieving some popularity, lyrics would be added to these instrumental pieces and they often became huge hits. Alfred Bryan added lyrics to Rainbow and it became Wenrich's first big hit. Bryan was the lyricist for many other hit songs, such as Come Josephine in My Flying Machine (1910) and Peg O' My Heart (1913). The first Indian intermezzo to become widely popular was Hiawatha, by Charles N. Daniels of Kansas City, published in 1901 by the Kansas City publisher Carl Hoffman Music.
Wenrich was born in Joplin, Missouri, but lived in Chicago and New York City. He wrote many of the most popular songs of the early twentieth century, including Put On Your Old Grey Bonnet (1909), Moonlight Bay (1912), and When You Wore a Tulip and I Wore a Big Red Rose (1914). Wenrich was married to the popular vaudeville singer Dolly Connolly, toured with her, and wrote Red Rose Rag (1911) for her, which became a big hit. Some of his rags include Ashy Africa (1903), Peaches and Cream (1905), and The Smiler (1907). When Wenrich was a boy, he and a friend sneaked into the House of Lords, a brothel in Joplin, Missouri, to hear Scott Joplin play. Later, Joplin told him to always write and play the music that he felt. Wenrich once said that things that happened at home gave him the titles, and the feeling for home gave him the music. We are playing from a period arrangement of this piece for two mandolins and guitar.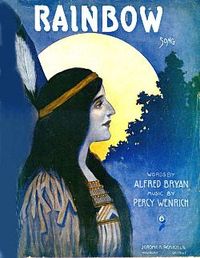 13. Jimmy Driftwood 2011 (Pat Ireland, 1954 - )
An original fiddle tune by our fiddle-player. Jimmy Driftwood was a famous folk musician and songwriter who wrote the Grammy winning song The Battle of New Orleans, which was based on the old fiddle tune Eighth of January. It was a #1 hit in 1959 for country singer Johnny Horton. Driftwood (1907 – 1998), who was from Arkansas, wrote thousands of songs recorded by artists such as Johnny Cash and Eddy Arnold, who had a big hit with Driftwood's Tennessee Stud, another Grammy winner. Driftwood toured with the Preservation Hall New Orleans Jazz Band in the 1960s and settled in Mountain View, Arkansas, where he started the annual Arkansas Folk Festival. He also established the Ozark Folk Center, to preserve Ozark mountain culture.
14. Levee Revels An Afro-American Cane Hop 1898
(William Christopher O'Hare, 1867 - 1946) arranged by Bob Ault
This is an excellent arrangement by our late mandolin/banjo player, Bob Ault. This extremely folksy cakewalk contains 18 measures in the first theme and 20 measures in the second, instead of the more common 16 measure themes for rags and cakewalks.  This seems strange since O'Hare was a trained, well-educated musician. It could indicate that this composition was based on folk melodies he had heard around Shreveport, Louisiana, where he was the first director of Shreveport's Grand Opera House. The "cane hop" refers to a popular dance of the time. Having achieved national success with his compositions, O'Hare moved to New York in 1900 where he worked as an arranger for M. Whitmark & Sons music publishers. Other pieces by O'Hare include Plantation Pastimes (1900), Cottonfield Capers (1901) and The Sand-Dancers (1907). This was the last piece we had to record for the album, but Bob passed away before we could record it. Clarke Buehling, from Fayetteville, Arkansas, who performs with the string band The Skirtlifters,  was kind enough to fill in on banjo and we include it here as a tribute to Bob.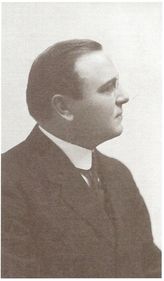 William Christopher O'Hare
15. Ozark Rag 1930 (Daniel H. Williams, 1900 - 1974) 
This is another country rag recorded by the East Texas Serenaders in 1930.
16. Valsez, Valsez 1946 (traditional Creole song)
From the book Creole Songs of the Deep South, this is a Creole waltz from Louisiana. The title is translated as "Come Dance, Come Dance." Caribbean waltzes can have a syncopated accompaniment as well as a syncopated melody, and are usually played at a fast tempo, giving them more of a 6/8 feel.
17. Melon Days 2010 (Pat Ireland, 1954 - )
Another fine fiddle tune by our fiddle player.
18. The St. Louis Rag 1903 (Tom Turpin, 1873 – 1922)
Tom Turpin was an early ragtime pioneer. His Harlem Rag (1897) was the first published rag written by an African-American. Turpin also owned the Rosebud Café, a saloon in St. Louis that was an important hangout for ragtime musicians, including Scott Joplin. The St. Louis Rag was written to commemorate the St. Louis World's Fair, which was to occur in 1903 to celebrate the centennial of the Louisiana Purchase. However, the fair was not ready to open in 1903 and was postponed until 1904.
- Kevin Sanders, April 2012
Thanks to: Diane Capps, Phil Stewart, Nora Hulse, Curtis Buckhannon, Debby Sanders, Nannette Rod, Dennis Pash, Smiley Wallace, Lee Davidson, Benoit LeBlanc, Bruce Rogers, Charlie Walden
Produced by Kevin Sanders. 
Arrangements by The Rhythmia unless otherwise noted.