Visit us on Facebook: 
https://www.facebook.com/rhythmia
816-590-9406; 
Previous events
Different bands playing on various front porches in the Valentine district of Kansas City, MO
Previous events
Free and Open to the Public Outside, in front of the US Bank Building
Leavenworth Public Library - Jahn Room, 417 Spruce St., Leavenworth, KS
FREE
Lawrence Kansas Library - Lawn Plaza, 707 Vermont St., Lawrence, KS
The Brown Bag Lunch Concert scheduled for Thursday, July29, 2021, has been postponed to Wednesday, August 4 due to the heat advisory. The time and location remains the same: 12:00 - 1:00 in front of the US Bank Building at 900 Mass St. in Lawrence. Hopefully, it will be cooler.
From the Sedalia Newspaper Saturday, June 1, 2019 at the Scott Joplin Ragtime Festival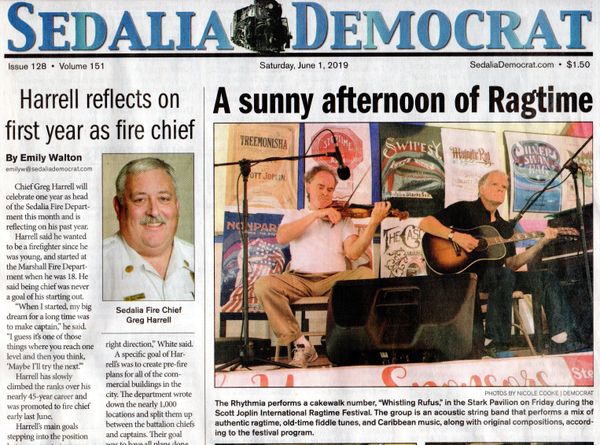 Click on "Reviews" above to see a review by Jack Rummel of "The Rhythmia is Fine and Dandy" CD.
  The Rhythmia is an old-time acoustic string band that performs a mix of authentic ragtime, primarily written and published in Kansas City where the band is based, old-time fiddle tunes, and Caribbean music, along with original compositions, to form a variety of old-time folk dance music.
Over a hundred years ago, ragtime was America's original popular music. While considered primarily as piano solo music today, ragtime was often played during the late nineteenth and early twentieth centuries by string bands consisting of violins, mandolins, guitars, and banjos. The Rhythmia is keeping this ragtime string band tradition alive. They also explore the Creole and Latin music of the Caribbean and Louisiana from the same period because of the many similarities to ragtime.
The Rhythmia's concerts include brief historical information on the tunes and biographical information on the composers. A performance by The Rhythmia is both entertaining and educational.
The individual members of The Rhythmia have over 35 years experience performing at many ragtime and folk music festivals across the country including the Scott Joplin Festival in Sedalia, Missouri, the ragtime festival on the Goldenrod Showboat in St. Louis, Missouri, and the Festival of American Folklife in Washington, D.C., (as members of The Etcetera String Band) by invitation of the Smithsonian. These musicians got together to form The Rhythmia in 2009 and have performed at places such as the Kansas City Missouri Public Library, the Kansas City Museum, and the Kansas City Riverfest in Kansas City, Missouri, as well as several outdoor fairs and festivals in the Kansas City area.
Also visit our Facebook page at: www.facebook.com/rhythmia.
MEMBERS
Kevin Sanders - guitar
Kevin's interest in local music history has led to published articles in The Rag - Times and The Kansas City Rag - Time Revelry. He has given symposiums on ragtime music and was interviewed for Uniquely Kansas City, a television documentary on the history of the arts in Kansas City, produced by the local PBS station KCPT-TV. Kevin was also featured in a National Public Radio special report on the famous Kansas City dancer Doc Brown, as well as two PBS-TV specials, The Cradle of Ragtime, and In Ragged-Time, a concert at Mississippi State University. In addition to performing, Kevin has written several songs, instrumental pieces, and a musical titled Armourdale, based on historical true stories.   
Pat Ireland - violin
Although classically trained, Pat developed an early affinity for earthier forms of music and was a frequent competitor in old-time fiddle contests, of which he has won many. Pat is a music teacher and a prolific composer who has written in many musical genres. His CD releases include Fiddling Legacy, a CD of traditional old-time fiddle tunes, and The Original,  a CD of his original fiddle tunes. He has experimented and explored Jazz-Rock fusion and contemporary Free Jazz, resulting in two bands, Sextant, in the late 1970s (no commercial releases), and The Unbound (Jazz Recidivists, Tapestry 76001-2) in the 1990s. More of his original compositions, including a Latin style of contemporary Jazz have been released on two solo CDs: The Business of Pleasure (no label) and I'll Give You Paradise (Enneagram). These recordings include the use of the electric violin.
The Rhythmia's performance may be presented in part by the Mid-America Arts Alliance.