Visit us on Facebook: 
https://www.facebook.com/rhythmia
816-590-9406; 
Previous events
Free and Open to the Public Outside, in front of the US Bank Building
Leavenworth Public Library - Jahn Room, 417 Spruce St., Leavenworth, KS
FREE
Lawrence Kansas Library - Lawn Plaza, 707 Vermont St., Lawrence, KS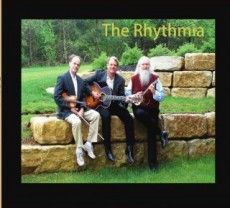 The Rhythmia CD Booklet
If you would like a downloadable version of the booklet in .pdf format, click on the following link: Rhythmia_CD_Book.pdf

 1. Dill Pickles (Charles L. Johnson, 1876 – 1950) 1906
 Johnson was the most prolific and most successful of the Kansas City ragtime composers. He published over 260 pieces, three of which were million sellers. Dill Pickles was his first million seller. Although he achieved great success, he never left Kansas City. This piece, like most of his others, adapts well to stringed instruments, which could reflect his first professional job playing the mandolin in the Walton Mandolin Club, a string band. Dill Pickles was the first piece to popularize the "three-over-four" type of syncopation, which would be used later in many other pieces. Johnson was known for his sense of humor as much as for his music. A former neighbor of his claimed that people would go downtown to his office just to tell him a joke! His music reflects his fun-loving nature. 
 2. Sunflower Slow Drag (Scott Joplin, 1868 – 1917; & Scott Hayden, 1882 – 1915) 1901
 Joplin is considered to be the best of the ragtime composers and his Maple Leaf Rag (1899) was the first widespread hit of the ragtime era. This rag, primarily written by Hayden with Joplin adding the trio, was published by Joplin's publisher John Stark & Son. It was once as popular as the Maple Leaf Rag. Hayden was a student of Joplin's and the two collaborated on this piece while they were living in Sedalia. This arrangement is from a folio of Joplin arrangements for two mandolins and guitar issued by Stark in 1903, and presumably arranged by Stark's son Etilmon. In the fourth theme, the second mandolin plays an unsyncopated counter melody against the syncopated melody, which gives it a very exciting finish.
 3. Cha Bai (traditional Cape Verde piece) 1890
 This piece comes from Cape Verde, a group of islands off the northwestern coast of Africa, with an African-Portuguese culture. This piece is from John Philip Sousa's book National Patriotic and Typical Airs of All Lands (1890), published by H. Coleman in Philadelphia. Sousa, as Bandmaster of the U.S. Marine Band, compiled these pieces from countries all over the world for the Secretary of the Navy.
 4. Peaceful Henry (E. Harry Kelly, 1879 – 1955) 1901
 This rag was the first big hit to come out of Kansas City and was Kelly's only national hit. The introduction was used note-for-note as the introduction to Good Gravy Rag (1913), by Harry Belding, and Brun Campbell's Ginger Snap Rag (unpublished). The interlude between the repeat of the trio was used by Jerome Kern in part of Ol' Man River (1927) from the musical Showboat. These could have been folk strains commonly heard at the time, or they could have been a musical reference to the popularity of this piece. The ragtime banjo virtuoso Vess Ossman recorded a popular banjo recording of Peaceful Henry for Columbia (1902). Kelly, a bachelor till the age of 52, lived at the Elks Club in Kansas City, Missouri, and would often get into trouble with the head Elk for playing the piano at all hours of the night. He was friends with Charles L. Johnson. Peaceful Henry is dedicated to Johnson and Johnson's Scandalous Thompson (1899) is dedicated to "my ragtime friend Mr. Harry Kelly."
 5. Impecunious Davis (Kerry Mills, 1869 - 1948) 1899
 Webster defines impecunious as "having little or no money, usually habitually." This is a cakewalk by the king of cakewalk writers, Frederick Allen "Kerry" Mills, a classical violinist. The cakewalk was an enormously popular dance in the late 1890s. The dance was developed by slaves imitating the high-falutin' dances of their masters, became a popular ballroom dance in the United States and Europe, and was featured in many Broadway shows. Musically, the cakewalk is similar to a rag with less complicated syncopations. Originally from Philadelphia, Mills moved to New York City in 1895 and started the F.A. Mills Publishing Company. He wrote many popular cakewalks, including At A Georgia Camp Meeting (1897), and Whistling Rufus (1899), both of which are still popular today. Mills' other popular hits include Meet Me in St. Louis, Louis (1904) and Red Wing (1907). Mills ended up in Hollywood, possibly writing or editing for the film industry or radio, where he died in 1948.
6. Pauv Piti Momzel Zizi (traditional Creole song)
This song, thought to have originated in the West Indies, can be found in the books Creole Songs of the Deep South, selected and arranged by Henri Wehrmann (1946), and Bayou Ballads, collected by Mina Monroe (1921).  It is also found under the title Lolotte in the book Slave Songs of the United States (1867). It obviously shares the same source as Skip To My Lou. According to Monroe, the song was one of the most popular songs sung on the Louisiana plantations. Louis M. Gottschalk, the first classical composer born in the United States to become internationally famous and the first to use the indigenous folk melodies and rhythms of the "new world", included this as the basis for his piece La Savane-Creole Ballad (circa 1845 – 1847). The contemporary ragtime composer David Thomas Roberts also uses it briefly in his Impressions of Helen (1984). We play this piece using the beguine rhythm. The beguine is an Afro-French dance developed in Martinique and St. Lucia.  The beguine is closer to the Creole rhythms of New Orleans than to Latin rhythms. The word beguine is a French term meaning "flirtation." 
7. Pigeon Wing Rag (Charles L. Johnson) 1909
Another fine Johnson rag from Kansas City, the title refers to a popular folk dance of the ragtime era. The dance included shaking the feet with fluttering arm and hand motions like a flying bird.
8. Zorita - Spanish Intermezzo (Harry Cohn, 1877 - 1955) 1907
This piece, a habanera, was published in Topeka, Kansas. The habanera is a rhythm that developed in Cuba in the early nineteenth century, although its roots can be traced back to the country dance of seventeenth century England. Musically, the habanera rhythm is similar to the tango. The habanera rhythm was commonly used in ragtime, in pieces such as Scott Joplin's Solace (1909), in blues and jazz, such as W.C Handy's St. Louis Blues (1914), and especially in the music of Jelly Roll Morton, which he called the Latin tinge. The form of this piece is similar to a rag without the fourth theme (AABBACC). The trio changes keys to the subdominant, which is common in rags. Harry Cohn was born in 1877 or 1878 in Topeka, Kansas. Cohn lived in Topeka, Kansas, where he worked as a buyer and manager of the August Clothing Store, until moving to Kansas City, Missouri in 1919. There are no other known pieces written by him.
 9. Corn Shucks (Ed Kuhn, 1883 – 1951) 1908
 Kuhn, another Kansas City composer, wrote an excellent set of folk rags starting with Black Beauty in 1904 and ending with Pickled Beets Rag in 1909. Kuhn was friends with Charles L. Johnson and had bet with Johnson that he could write a rag that would be more popular than Johnson's Dill Pickles Rag. Keeping with the vegetable themed title, the result was Pickled Beets Rag which was very similar to Dill Pickles but couldn't compare in terms of sales. Corn Shucks, published in 1908 by J.W. Jenkins in Kansas City, is actually a much better rag. Kuhn led a very popular dance band in Kansas City, the Red Robins, and deserves credit for being the very first dance band from Kansas City to make records. Ed Kuhn later made his way to Camp Crowder, Missouri, where a former band member said that he found him selling moonshine liquor to the soldiers. Kuhn's most popular piece was a pop song called Just A Little Kiss From A Little Miss (1921).
 10. The Kaiser's Rag (Clare Mast, 1895 - 1964) 1915
 Mast, a vaudeville pianist, wrote this rag for his fiancée Edna Sanford, and published it himself in Edgerton, Ohio. Mast probably chose the title due to his fiancé's German ancestry. Some of Mast's descendants are also musicians. His son, John Clare Mast performed professionally as a jazz pianist and is featured in The Jazz Loft Project, a book, photography exhibition, CD, and radio series. Clare Mast's grandson, Paul Mast, lives in Tonganoxie, Kansas and is a good friend of mine. Quite an accomplished singer, Paul sang on a Christmas recording project of mine, Merry Christmas Tonight, released under the name The Isles of Rhythm (RBR 302, 2009). This excellent rag is the only known piece by Mast.
 11. The Walking Conga (Kevin Sanders, 1954 - ) 2009
Although technically not a conga, this piece uses the conga rhythm. The term conga can refer to a street band, a dance, or a specific rhythm. The conga was brought to Cuba by African Slaves. It started becoming popular in the United States at the Le Conga Nightclub in New York in the late 1930s where it was featured by bandleader Desi Arnaz, whose father, as mayor of Santiago de Cuba, banned public dancing of the conga, due to the dancers' inclination towards public drunkenness, fighting and, according to Arnaz's edict, semi-naked crowds running through the streets of the city.
12. The Thriller (May Aufderheide, 1890 – 1972) 1909
 Aufderheide was one of several women ragtime composers from Indianapolis and is considered to be the best. This popular and exciting rag was widely played by early New Orleans jazz bands. Her music was published by her father's company, who also published many other ragtime pieces by Indianapolis writers.
13. Kansas City Rag (James Scott, 1886 – 1938) 1907
Considered one of the best ragtime composers second only to Scott Joplin, James Scott was born in Neosho, Missouri, grew up in Carthage, Missouri, and lived the last eighteen years of his life in Kansas City, Kansas (1920 – 1938). He worked in Kansas City as a band leader, teacher, and theater musician playing the organ for silent movies. He associated with other KC musicians and his cousin, Ada Brown, sang on some recordings by the great KC jazz band leader Benny Moten. James Scott's music had an obvious influence on the piano playing of Moten. Perhaps the best example of this is in the trio of Moten's Kater Street Rag, recorded for Victor in 1925. The counter melody in the bass adds to the quality of Kansas City Rag.
14. Manchega (Louis M. Gottschalk, 1829 - 1869) 1852
Gottschalk composed this piece based on Spanish dance music while in Spain in 1852. Most of Gottschalk's pieces probably wouldn't adapt well to stringed instruments. This is our own arrangement which includes only the primary melodies of the piece. Gottschalk was exposed to African, French, and Latin rhythms while growing up in New Orleans. He traveled extensively throughout the Caribbean and South America, frequently using these rhythms in many of his pieces. The beginnings of ragtime can be heard in some of his pieces, such as The Banjo (circa 1855) and Pasquinade (circa 1863).
15. The Proud and Prosperous (Pat Ireland, 1954 - ) 2009
This tune starts out sounding like a cakewalk in the first theme, but changes to more of a fiddle piece with the improvisations in the second theme. A fine tune by our fiddle player.
16. Rag Pickings (unknown)
We learned this from a 1911 Victor recording by the other great ragtime banjo virtuoso Fred Van Eps, who made hundreds of ragtime banjo recordings. Apparently, someone handed Van Eps this music while he was on stage and disappeared.  The composer's name was not included on the music, written for the guitar. And Van Eps was never able to discover the composer's identity. We take this at a more relaxed, rocking tempo than the Van Eps recording.
17. Forsythia (Kevin Sanders) 2009
I wrote this habanera one weekend when I was doing some landscaping in my yard and had purchased some forsythia bushes. Not knowing what else to call it, and in keeping with the Scott Joplin tradition of floral titles, I decided to name it Forsythia. 
18. Smoky Mokes (Abe Holzmann, 1874 - 1939) 1899
This fine cakewalk was popularized by John Philip Sousa's Band. It was also published as a banjo solo in 1901. Holzmann was born in New York City to German (some sources say Hungarian) immigrants. Other popular pieces of Holzmann's include the march Blaze Away (1901) and another cakewalk Bunch O' Blackberries (1899).
 19. Ragged Edges (Kevin Sanders, 1954 - ) 1993
One day, while looking through some old sheet music, I noticed that most of it was torn and tattered around the edges, making me think that most ragtime music has "ragged edges." I thought this would be a good title for a rag and searched several sources to determine if it had already been used. Several years after writing it, I discovered that there was a Ragged Edges by Otto Frey, published by Victor Kremer (1911) in Chicago. I decided to keep the title, considering that the original must not have been very popular, since it was so difficult to find. The gospel-sounding second theme wasn't intentional, but I'm pleased that it turned out that way.
20. Dixie Twilight – Characteristic March (Charles L. Johnson, 1876 – 1950) 1909
This tune has more of a cakewalk feel. Although the cakewalk was considered out of style when this piece was written, Johnson may have written it earlier, or was reflecting back on the good ol' cakewalk days!
Kevin Sanders – May 2010
Produced by Kevin Sanders
Arrangements by The Rhythmia, except: Rag Pickings, by Fred Van Eps (1911); and Sunflower Slow Drag, by Etilmon J. Stark, (1903).
Thanks to: Debby Sanders, Dennis Pash, Nannette Rod, Lee Davidson, Donna Roberts; Mary Beveridge; Benoit LeBlanc, Nora Hulse, and Smiley Wallace. In memory of Helen Wallace, always a strong supporter of local musicians.
The Rhythmia
Kevin Sanders – Guitar, percussion, banjo-guitar (Cha Bai)
In addition to performing, Kevin, a founding member of The Etcetera String Band, Kevin has written several songs and instrumental pieces.  He has published articles and given symposiums on ragtime music and was interviewed for Uniquely Kansas City, a television documentary on the history of the arts in Kansas City. 
Pat Ireland – Violin.
 Although classically trained, Pat, also a founding member of The Etcetera String Band, developed an early affinity for earthier forms of music and was a frequent competitor in old-time fiddle contests, of which he has won many. Pat is a music teacher and a prolific composer. He has released The Original (RBR 102), a CD of his original fiddle tunes.  
Bob Ault – Mandolin, five-string banjo, tenor banjo, ukulele
Bob is a composer and arranger, who has entertained everywhere from Carnegie Hall to Japan.  Bob, also a member of the Etcetera String Band, learned this authentic 100 year-old style of banjo from Howard Weilmuenster, a student of ragtime banjo great Fred Van Eps. He provided music for the off-Broadway show Fables in Slang in New York.  For 37 years Bob was an assistant instructor for the History of Ragtime course at Washington University in St. Louis.
Ragged But Right RBR103
© Copyright 2010 by The Rhythmia; The Proud and Prosperous © Copyright 2010 by Pat Ireland; The Walking Conga, Forsythia © Copyright 2010 by Kevin Sanders; Ragged Edges © Copyright 1993 by Kevin Sanders